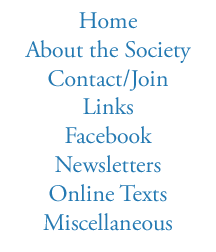 The Society for Eighteenth-Century Music
Ninth Biennial Conference: Global Intersections in the Music of the 18th Century
August 6–7 and 13–14, 2021 (11am–3pm Eastern)
Virtual Conference, in collaboration with the
Royal Swedish Academy of Music


Due to the ongoing global pandemic, the Society for Eighteenth-Century Music in collaboration with the Royal Swedish Academy of Music was forced to postpone the biennial conference to be held in Stockholm, Sweden in March of 2020. The conference has now been rescheduled for the first two weekends in August, 2021 (August 6-7 and 13-14). The conference will be held virtually, due to the on-going recovery from the pandemic.

The Royal Swedish Academy of Music and the Society for Eighteenth-Century Music welcome you to this virtual conference, which will be held in four 4-hour sessions on each day.
---
CALL FOR PAPERS
Mozart Society of America and Society for Eighteenth-Century Music
Joint Conference in Salzburg, May 26–29, 2022
Mozart and Salzburg
In a letter to Abbé Joseph Bullinger, written on August 7, 1778 from Paris, Mozart states bluntly, "Salzburg is no place for my talent!" He then goes on to enumerate all the ways that he felt Salzburg was inadequate: the court musicians don't have a good reputation; there is no theater or opera; there are no singers; the orchestra is "rich in what is useless and unnecessary—and very poor in what is essential"; there is not even a decent kapellmeister. Nevertheless, Mozart spent most of his first twenty-five years composing and playing in the Salzburg court orchestra and at the Cathedral. Of course Mozart was supposed to resume his duties in Salzburg after visiting Vienna in the spring of 1781, but he only returned to his home town for a few months in 1783.
This international conference will explore all aspects of Mozart and Salzburg, including Wolfgang's early education and travel, especially to the nearby court at Munich; the music of Leopold Mozart, Michael Haydn, Giacomo Rust, as well as the other singers and instrumentalists at the Salzburg court; traveling opera troupes, especially Emanuel Schikaneder's residence in Salzburg in 1780; and finally the works that Mozart wrote for Salzburg: his chamber music and serenades, symphonies and concertos, masses and other church music, and operas. All relevant topics will be considered, though priority will be given to the theme of the conference.
Topics should be proposed in abstracts of up to 300 words and submitted to Paul Corneilson <pcorneilson(at)packhum.org> no later than September 1, 2021. Please submit two versions of the abstract, one with title and abstract only and one with your name, address, email, phone number, institutional affiliation or city, and AV requirements. Presentations are expected to fill 30-minute slots and should be given in English. One need not be an MSA or SECM member in order to submit a proposal, but all speakers chosen must be members of one of the societies by the time the conference takes place. The Program Committee will review the proposals and select the speakers, and will announce the program at the American Musicological Society meeting in early November.
The conference will be hosted by the International Mozarteum Foundation and will include guided tours to the two Mozart museums, a lecture-recital with Mozart's original instruments, and a day trip to Munich. MSA and SECM plan to publish a conference report in collaboration with the Mozarteum Foundation. We also expect to offer access to the conference via the Internet for members who cannot travel to Salzburg.
Program Committee: Paul Corneilson (chair), Dorothea Link, Simon Keefe, Daniel Melamed, Beverly Wilcox
---
Announcement: Eighteenth-century Arts Education Research Network
We are pleased to announce the new Royal Society of Edinburgh-funded Eighteenth-century Arts Education Research Network (EAERN), based in the music subject area of the University of Glasgow. This interdisciplinary network brings together an international community of researchers in music, art, literature, dance, and history to share approaches to investigate eighteenth-century arts educational materials.

The aims of the network are:
To investigate how eighteenth-century arts education has impacted on the development of Western society and the development of artisan institutions such as music conservatories, schools of art, academies of dance and the university institution
To establish a dialogue between interdisciplinary researchers about their current methodological practice when analyzing, deconstructing and using eighteenth-century education materials in practice
Out of these dialogues, to establish new standardized methodologies that utilize cross-disciplinary explorations
The network will establish a seminar series, and three full-day public colloquia.

Please join on Facebook EAERN and on Twitter @EAERNing to stay up to date with workshop details and events. If you would like further details, contact us: arts-eaern@glasgow.ac.uk


---

SECM Conference Proceedings

Published by Steglein Publishing, Inc.

2016: 7th Conference in Austin, TX
• SECM in Austin 2016
2014: 6th Conference in Bethlehem, PA
• Music in Eighteenth-Century Culture
2012: 5th Conference in Charleston, SC
• Haydn and His Contemporaries II
2010: 4th Conference in Brooklyn, NY
• SECM in Brooklyn 2010
2008: 3rd Conference in Claremont, CA
• Haydn and His Contemporaries
2006: 2nd Conference in Williamsburg, VA
• Genre in Eighteenth-Century Music
2004: 1st Conference in Washington, DC
• Music in Eighteenth-Century Life


---

The "Bononcini Project" of the Fondazione Arcadia promotes the music of Giovanni Bononcini with a web site, an online works catalog and downloadable scores. Further information can be found at their web site.


---

A list of dissertations and theses currently being written or recently completed on topics pertaining to music in the eighteenth century can be found here.


---

The complete text of Charles Burney's The Present State of Music in France and Italy, 2nd, corrected edition, (London: T. Becket and Co., 1773), is available here. Access is free and open to anyone.