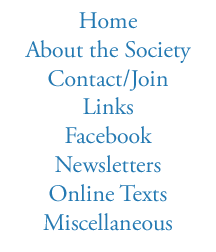 Ensemble PeriHIPsous presents Sigismund's Cathedral
Inaugural concert at this year's AMS conference in Rochester, NY
Conducted by Michael E. Ruhling, featuring the Christ Church Schola Cantorum, Brian Shaw, trumpet, and Edoardo Belotti, organ.
Christ Church Episcopal, 8:00 p.m. Friday 10 November
141 East Avenue (.5 miles, 10-min walk from the Convention Center)
Priority Seating (middle front 6 rows) - $50 (at door)
General Admission - $30 (at door)
Music of Michael Haydn, including the Pastorello in C, Trumpet Concerto, and "Sigismundo" Requiem in C minor, played on period instruments. Also features organ works on the Craighead-Saunders Organ.


---

The next biennial meeting of the Society
SECM's eighth biennial conference will take place from Thursday to Sunday, 22–25 February 2018 at the Mission San Luis in Tallahassee, FL. The call for papers can be found here. Further details, including travel and lodging arrangements, will be posted here soon.


---

The Sterling E. Murray Award for Student Travel, named in honor of SECM's founding president, was established in 2011 to encourage and enable college and university students currently enrolled as full-time undergraduate or graduate students in accredited academic programs and having career interests that relate to the mission of the Society for Eighteenth- Century Music, to attend the Society's biennial meetings. The award consists of $500 to support travel expenses as well as a student membership in the Society for one year. Award recipients are announced in the Society's newsletter and recognized at the meeting that they attend. Further information and an application form can be found here.


---

American Society for Eighteenth-Century Studies
Annual Meeting in Orlando, FL, 22–25 March 2018

Affiliated Session – Society for Eighteenth-Century Music
The Society for Eighteenth-Century Music will offer a session during the 2108 ASECS meeting, planned to feature intersections of music with topics and issues that will interest scholars of the period generally. (session chair: Douglass Seaton, Florida State University).


---
"Mozart and Modernity"
The Mozart Society of America's seventh biennial conference, "Mozart and Modernity," will take place from Friday to Sunday, 20–22 October 2017 at the University of Western Ontario. Details and call for papers here.


---
The Mozart Society of America is offering SECM members a 50% discount on their publications, including Mozart in Prague: Essays on Performance, Patronage, Sources, and Reception for $25. For a list of available titles and for ordering instructions, please download this form.


---
American Bach Society
Call for papers for the 2018 meeting at Yale University
26–28 April 2018
Details and call for papers here.


---
The Frances Alford Brokaw Grant of the American Bach Society
The Frances Alford Brokaw Grant of $750.00 is awarded annually to an undergraduate student to provide support for research at the Riemenschneider Bach Institute (RBI) at Baldwin Wallace University in Berea, OH, on projects relating to Bach or figures in his circle. The award is for a period of residence of one or more weeks to use the RBI's resources. More information here.


---
Early Music Conference "Musicking: Cultural Considerations"
CFP Deadline: November 1, 2017
Conference Dates: April 10–14, 2018
Conference Location: University of Oregon School of Music and Dance, Eugene, Oregon
Further details here


---
Eighteenth-Century Flute Chamber Music
International Study Day
Genoa, Conservatorio di musica "N. Paganini", 28 October 2017
More information here.


---
Announcement: Eighteenth-century Arts Education Research Network
We are pleased to announce the new Royal Society of Edinburgh-funded Eighteenth-century Arts Education Research Network (EAERN), based in the music subject area of the University of Glasgow. This interdisciplinary network brings together an international community of researchers in music, art, literature, dance, and history to share approaches to investigate eighteenth-century arts educational materials.

The aims of the network are:
To investigate how eighteenth-century arts education has impacted on the development of Western society and the development of artisan institutions such as music conservatories, schools of art, academies of dance and the university institution
To establish a dialogue between interdisciplinary researchers about their current methodological practice when analyzing, deconstructing and using eighteenth-century education materials in practice
Out of these dialogues, to establish new standardized methodologies that utilize cross-disciplinary explorations
The network will establish a seminar series, and three full-day public colloquia.

Please join on Facebook EAERN and on Twitter @EAERNing to stay up to date with workshop details and events. If you would like further details, contact us: arts-eaern@glasgow.ac.uk


---

SECM Conference Proceedings

Published by Steglein Publishing, Inc.

2014: 6th Conference in Bethlehem, PA
• Music in Eighteenth-Century Culture
2012: 5th Conference in Charleston, SC
• Haydn and His Contemporaries II
2010: 4th Conference in Brooklyn, NY
• SECM in Brooklyn 2010
2008: 3rd Conference in Claremont, CA
• Haydn and His Contemporaries
2006: 2nd Conference in Williamsburg, VA
• Genre in Eighteenth-Century Music
2004: 1st Conference in Washington, DC
• Music in Eighteenth-Century Life


---

The "Bononcini Project" of the Fondazione Arcadia promotes the music of Giovanni Bononcini with a web site, an online works catalog and downloadable scores. Further information can be found at their web site.


---

A list of dissertations currently being written or recently completed on topics pertaining to music in the eighteenth century can be found here.


---

With the help of the RIT Press and Peter Alexander, the Haydn Society of North America has re-started the HSNA Newsletter, but now as an updatable electronic newsletter that works together with our HAYDN online journal, and has RSS feed capabilities. Please go to haydnjournal.org and click on HSNA Newsletter to read the current content. To submit items to the newsletter's editor Peter Alexander, send them to HSNA.Newsletter@rit.edu.


---

The complete text of Charles Burney's The Present State of Music in France and Italy, 2nd, corrected edition, (London: T. Becket and Co., 1773), is now available here. Access is free and open to anyone.


---

SECM members get 20% discount on Eighteenth-Century Music and Journal of Musicology