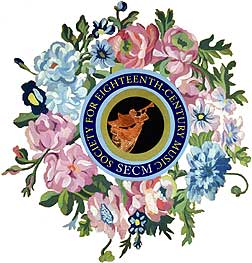 The Society for Eighteenth-Century Music is operated as a non-profit corporation. Its officers are:

President: Drew Edward Davies (2021–2023)
Vice-President: Alison DeSimone (2020–2022)
Secretary-Treasurer: Evan Cortens (2021–2023)
Past President: Guido Olivieri

The Society's Board of Directors is made up of the four officers, six elected directors-at-large, two student representatives, the newsletter editor, and the webmaster.
Directors-at-large: Julia Doe (2020–2022), Kimary Fick (2020–2022), Beverly Wilcox (2020–2022), Laurel Zeiss (2021–2023), Bertil van Boer (2021–2023), Paul Corneilson (2021–2023)
Student Representatives: Ashley Greathouse (2019–2021), Rachel Bani (2020–2022)
Newsletter Editors: Michael Vincent (2020–2022)
Webmaster: Mark W. Knoll (2021–2023)

Previous office holders and board members can be found here.

The Society has granted honorary memberships to: Eugene K. Wolf (2002), Daniel Heartz (2003), H. C. Robbins Landon (2004), Malcolm Bilson (2005), Bathia Churgin (2009), Sterling Murray (2016), Paul R. Bryan (2017), Mary Sue Morrow (2018), and Neal Zaslaw (2020).

The story of the genesis of the Society can be found here

The Society's By-Laws are available here

The Society for Eighteenth-Century Music is a charitable, tax-exempt organization as described in section 501(c)(3) of the Internal Revenue Code. Contributions beyond the cost of membership are tax-deductible to the fullest extent of the law, but individual circumstances may vary. We suggest consulting with a tax professional concerning the deductibility of your gift.