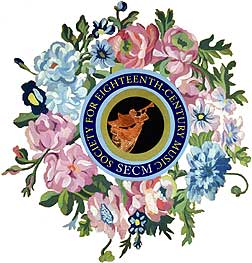 seen to the left was painted by Ruth Knoll based on the soundboard painting of the 1769 Pascal Taskin double-manual harpsichord now housed in the Russell Collection of Early Keyboard Instruments in Edinburgh, Scotland. (The center portion has, of course, been altered for use here)
Clicking on the rose wherever it is found on the site will always return you to the SECM home page.
Photographs of the 1769 Taskin harpsichord, including the soundboard rose, can be seen here (this link will open in a new browser window).



Call for submissions for the fall and spring issues of HAYDN: Online Journal of the Haydn Society of North America (haydnjournal.org): research in the life and music of Joseph Haydn and Michael Haydn.

HAYDN: Online Journal of the Haydn Society of North America, a 2018 PROSE Award winner for innovation in journal publishing, is accepting submissions for the fall 2018 and spring 2019 issues. This online, peer-reviewed journal, published by RIT Press, has many features that are advantageous to effectively disseminating music scholarship, including convenient and interactive color and b/w visual figures, linked and embedded audio and video examples, and links to publications and recordings. Articles from past issues are continuously available to subscribers. Our readership continues to grow, particularly through college/university library and other institutional subscriptions that allow multiple readers to access the journal.

Categories of items included in each issue are:
General Articles of theoretical, historical, and pedagogical topics
Works in Progress
Approaches to Performance
Rediscovered and Important Documents
Reviews of CDs, books, and videos.

The fall 2018 issue (8.2) is open to any eighteenth-century music topic, particularly those related to Joseph Haydn. We encourage submissions related to performance and pedagogy, and projects still in progress, enhanced by audio and video clips. The spring 2019 issue (9.1) is dedicated to the life and work of Michael Haydn, honoring Professor Charles Sherman, who passed away this winter.

Visit the journal's web site (haydnjournal.org) for submission and style guidelines.

Please send submissions and address any questions about publishing your research in HAYDN: Online Journal of the Haydn Society of North America to Michael E. Ruhling, editorial director, Michael.Ruhling@RIT.edu.


---
The Scholarly Societies Project
The Scholarly Societies Project, founded in 1994, is devoted to facilitating access to information about scholarly societies across the world. It currently contains information about over 4,000 scholarly societies.
Of particular interest to SECM members is a subsection of the Project entitled Repertorium Veterrimarum Societatum Litterariarum (Inventory of the Oldest Scholarly Societies), which covers scholarly societies that were founded up to the year 1829. This is an area rich in information about societies that were active during the eighteenth century. It is located at http://www.scholarly-societies.org/history/
Over 250 of the societies mentioned in this area have associated history pages, which include basic historical information for the society, as well as information on the major journals published by the society, including references to full-text archives of the volumes, where appropriate.
The abbreviations area lists contemporaneous journal-title abbreviations and gives links to the history pages where the corresponding journals are described. This area includes the vast majority of abbreviations used in the pre-eminent index to journal articles of that time period: the Repertorium Commentationum a Societatibus Litterariis Editarum, Secundum Disciplinarum Ordinem, compiled by Jeremias David Reuss and published in 16 volumes from 1801 to 1821.
---
The Sun of German Composers


This graphic, found on the last page of Volume 3 of the Society's newsletter, depicts a sun filled with names of 18th-century German composers. The original is from an Allgemeine Musikalische Zeitung article from 1799. The graphic and accompanying article can be seen here.